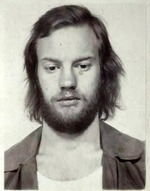 Drums - Stephen Clark (Made Music and Jordnära)

In the Jordnära period he was educated by the Swedish Philharmonic percussion members and the things started "to take off".

After that he realized that he was a better painter than a drummer and pecussionist so he abandoned his musical career to our disappointment.
He is now a renowned artist. You can find his art by searching "STEPHEN CLARK" on the web.

Pictures above; the artist gang of Larsberg youth hostel on Lidingoe, a city island east of Stockholm. Charmaine Ristow - a dancer at the Cullberg balley, Kenny Sundin - an acoustic guitarist, Stampe - bass, Micke - an actor.
We acted as an artist cooperative and played around the clock to the neighbours disaprovement.