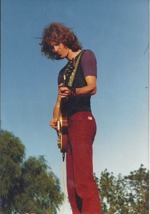 Concert in the Rålambshov Park - Stockholm 1981, 1982 and 1983 arranged by Hagiwara.
Blue skies all the years and the concert was entiirlely arranged by us, non profit.
The only organization that earned money on the occasions was the Krishna movement that sold vegetarian food. Among the bands that performed was Rost, Neon Rose and more bands.

1981 Hagiwara made a tour to Gotland (Swedens largest island)..
We traveled by boat (a ketch named ARIEL) that our keyboard player (Bud) lived on in Stockholm.
We performed on different clubs and on a prison on Gotland.
The ship was loaded with PA-speakers and other equipment wich gave a big magnetict field that influenced the ships compass so instead of reaching for the city of Visby we landed on the north side of Gotland.